Beamsplitter Pricing & Ordering
Height

Width

Qty

Transparency

Unit

Thickness

Calculate

Unit $

Order

$0.00
Beamsplitter mirrors, also known as transparent mirrors or "beam splitter" mirrors, have an optical grade dielectric coating on the face of the mirror which reflects the amount of light you specify. The coating is applied to low-iron glass to minimize tint, and the anti-reflective coating on the backside eliminates the double reflection seen in regular mirrors. On this page, you'll find pricing through our price calculator, technical specifications, and how to order it for immediate production and delivery.
Teleprompting – High quality beamsplitter mirrors allow undistorted, tint-free recording straight through the glass. The beamsplitter reflects text from a screen positioned below, and the camera is placed behind the glass with a black material wrapped around it to eliminate reflections from the ceiling into the lens. Often combined with a Nikon 7070 mount for easy angle adjustment (typically at 45 degrees or slightly greater). Rounded corners are often ordered for speech teleprompting for added style and to prevent tipping.
Large Scale Teleprompter – Large sizes of beamsplitter glass can be used at long distances for mega churches, Ted talks, and other special events where the speaker wants to read text at a long distance.
Pepper's Ghost Illusion –  Pepper's Ghost illusions using beamsplitter glass include Disney's Haunted Mansion, Rise of the Resistance, Universal Studios Diagon Alley, and other illusions involving mirrors are often created using beamsplitter mirror. The beamsplitter coating on the first surface eliminates the distracting break in image called "ghosting" that standard glass creates. Often incorrectly referred to as a hologram, nonetheless the image does create a similar effect of floating, particularly when the projected image has a black background.
Museum & Art Exhibits – Museums commonly use beamsplitter mirrors for stunning illusion exhibits.
Stereoscopic Displays – 3D Monitors and projections use beamsplitter glass mounted at a 45 degree angle to create a flicker free perfect 3D stereo experience.
3D Cinematography & Photography – Beamsplitter glass is placed between two cameras to create 3d movies and photographs.
Mirror TV – Beamsplitter glass is often used to hide displays above the fireplace, in swanky steakhouses, or in the bathroom. When used in the bathroom, it's commonly referred to as a Smart Mirror and uses a 70R/30T coating.
Scientific Research – Since 1851, beamsplitter mirrors have been used in Physics to measure light.
Infinity Mirror – By placing beamsplitter glass in front of LED lighting and a standard mirror, the light bounces between the two creating a stunning infinity mirror.
Art Installations – High tech artistic illusions such as can achieve the maximum possible reflection with no distortion use first surface mirrors as a bounce mirror. They're often used to double an object with no noticeable light difference between the object and its reflection.
Lasers – First surface mirrors provide precision reflection for lasers. Often supplied in circular or elliptical shapes for mounting in gimbals and other specialized mounts.
Special Effects – Many visual special effects for film and television are created using beamsplitter mirrors.
Animal Observation – Beamsplitter glass is often placed in front of an animal cage to allow viewers and recording to take place discreetly without disturbing the animals being observed.
Head-Up Displays (HUD)– Flight simulators use a beamsplitter mirror to bounce a reflection or projection from below the dashboard.
Gaming Machines – Beamsplitter glass is often used in pinball machines, arcade cabinets, and gaming machines to reflect light and displays by creating "holographic" projections.
Lighting Effects – Highly accurate laser effects can be accomplished with a beamsplitter mirror, dividing the beam into two parts. A regular mirror would cause too much distortion from a double image and wouldn't split light evenly.
Kaleidoscopes – Large scale and high quality kaleidoscopes often use beamsplitter mirrors for unique reflection effects which can't be achieved with other glass.
Camera Lucida – An artist can observe an object and their drawing at the same time by mounting beamsplitter glass at a 45 degree angle.
Beamsplitter vs Two Way Mirror
What Is A Beamsplitter Mirror?
Do you ship worldwide?
Yes, we ship via FedEx worldwide. Duties and taxes are billed separately on delivery through FedEx.
How can mirrors be shipped without them breaking?
We're experts at shipping glass with more than 15 years experience. Small mirrors are carefully packaged using bubble wrap and shipped via FedEx. Larger mirrors are crated and shipped via freight. All shipments are fully insured to protect your order.
Frequently Asked Questions
Where can I find technical specifications?
Yes, scroll down this page and you'll find our list of beamsplitter samples.
What's the largest size you can manufacture?
Small stock sheet size – 49″x70″
Large stock sheet size – 69″x126″
How likely are beamsplitter mirrors to break in shipping?
The mirrors are unlikely to break in shipping due to how we package them. If there's a broken mirror, take photos of the mirror and packaging (with label shown in image) and we can send a replacement.
How can I clean beamsplitter mirrors?
The dielectric layer is extremely durable, so Windex and paper towels are fine. To avoid streaks, we recommend 50% isopropyl alcohol (lens cleaner) and KimWipes.
How much do the mirrors weigh?
2mm thickness: 1 lb / sq ft
3mm thickness: 1.5 lb / sq ft
4mm thickness: 2 lb / sq ft
How can I mount beamsplitter mirrors?
A Nikon 7070 car window mount can clamp on the glass and adjust to any angle.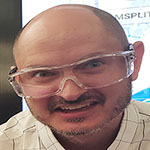 James Baker
Sales Engineer
james@opticalmirror.com
(419) 787-4526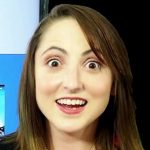 Krista Kelly
Sales Manager
krista@opticalmirror.com
(419) 461-0710