To create your infinity mirror you'll need 3 simple things: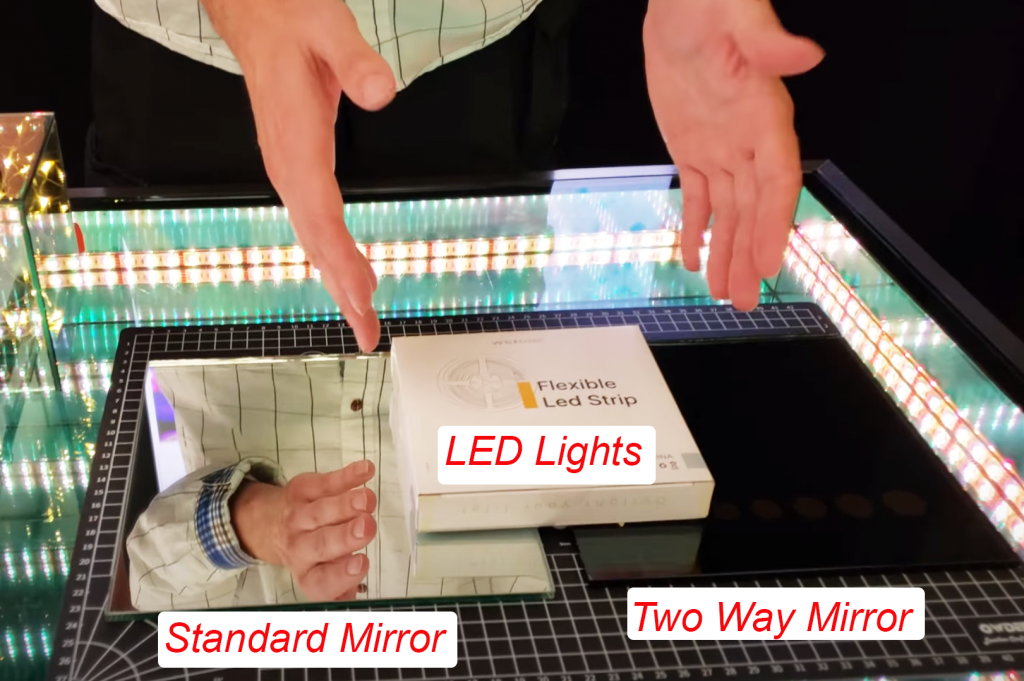 You can find all of these online; our LED light strip was only $15 dollars on amazon! It came with a remote to change the colors or to add a strobe effect, and a music reactive control box that allows your mirror to bump along to your favorite song.
Once you have your supplies, its time to get to work!
To start, you're going to take the IR input from the remote and plug it into the tape.
After you have it plugged in, you'll to shape it on top of the regular mirror to get the effect that you want (we went with a simple circle).

Metal standoffs can help to hold the shape in place if you're having trouble.

Next, wrap the tape around the perimeter of your mirror, or standoff brackets.
Achieve desired shape, peel the paper backing off the light strip and secure the adhesive backing into place.
After everything's stuck in place, put your 2 way mirror on top of the LED strip and BOOM, there's your very own infinity mirror.
After your masterpiece is finished, be sure to clean the fingerprints off the glass with an ammonia free glass cleaner and a non-abrasive cloth.
There are endless options for your infinity mirror creation; we have infinity mirror tables, cubes, and even an infinity mirror dress! Let your imagination run wild and see what you can come up with.